Homelessness Conference 2017 – Working Together to End Homelessness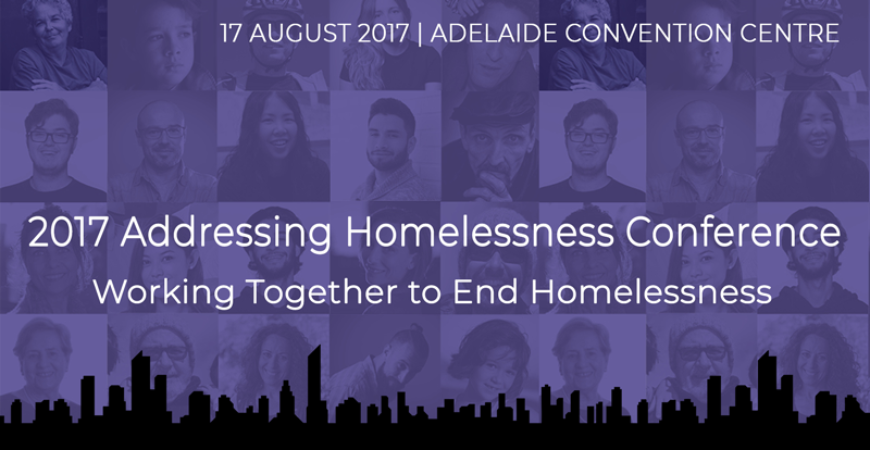 17 August 2017
Adelaide Convention Centre, North Terrace Adelaide
The Don Dunstan Foundation presents the 2017 Homelessness Conference – Working Together to End Homelessness
The 2017 Homelessness Conference program profiled emerging local, national and global trends on housing and homelessness. The conference theme, Working Together to End Homelessness, examined the various ways that those working in the public, community and private sectors can all work more effectively together to end homelessness.
This conference also launched The Zero Project Adelaide. Against a backdrop of rising homelessness in Australia, Adelaide now has a unique opportunity to lead the country in finding solutions to improve the lives of people experiencing homelessness and, through the Zero Project Adelaide, put an end to street homelessness in the inner city.
Conference presenters and panel members include nationally and internationally acclaimed key service providers, policy and decision makers, and academics. Interactive sessions will provide opportunities for discussion, learning and exchange of ideas. Speakers include:
Jake Maguire | Director of Consulting and Public Affairs
Jake co-directs Community Solutions' work to help communities end homelessness throughout the US and around the world. He is privileged to advise and support ambitious, partner-led housing efforts on three continents, as well as Community Solutions' own Built for Zero initiative in the United States. From 2010-2014, he worked as a member of the 100,000 Homes Campaign team, Community Solutions' flagship national team, which helped 186 communities find permanent housing for more than 105,000 chronically homeless Americans in under four years.
Dr Cameron Parsell | Postgraduate Coordinator and Program Leader Social Wellbeing, Health & Housing, Institute for Social Science Research, University of Queensland
Cameron's primary area of research is homelessness, supportive housing and broader social welfare programs aimed at addressing social disadvantage. He is a Senior Research Fellow funded through an Australian Research Council. Cameron is the Associate Editor of the Australian Journal of Social Issues, and a policy advisor to the Australian Council of Social Services. He is the co-chief investigator on several national studies that examine the nature and outcomes of newly emerging models of intervention directed toward permanently ending homelessness. Cameron has written about identity, the meaning of home, the international transfer of homelessness/housing policy, and housing as a means to foster autonomy and self-determination. He is currently examining different models and practices of social service delivery. Cameron's research seeks to build an evidence base about the interacting societal, social policy, social program and agency dimensions to human change. Cameron is particularly interested in conducting ethnographic research, with a focus on policy and practice translation.