Global and Local Perspectives on Homelessness in a Pandemic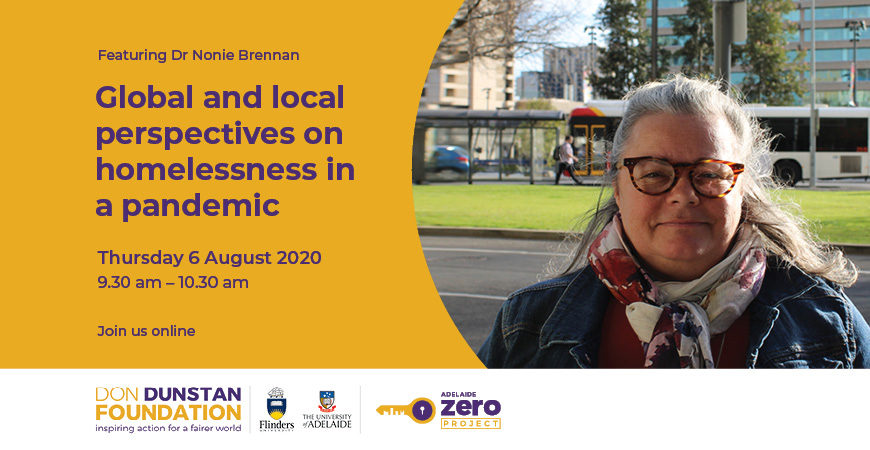 6 August 2020
9.30 am - 10.30 am
Dunstan Dialogue: Learning from the challenges and looking to the future
How has homelessness been affected by the global pandemic – what do you do when the government instruction is to 'Stay home' but have no home to go?  This webinar featured Chief Executive Officer of All Chicago and our most recent Thinker in Residence, Dr Nonie Brennan, We discussed how COVID-19 has impacted people experiencing homelessness across the globe.
Dr Brennan was joined by leading South Australian homelessness researcher and local expert, Professor Chris Leishman as he shone a light on affordability in the Australian housing market.
Speakers:
Dr Nonie Brennan: Senior Advisor, Institute of Global Homelessness & former CEO, All Chicago
Professor Chris Leishman: Director, Centre for Housing, Urban and Regional Planning, University of Adelaide
The Hon. Dr Jane Lomax-Smith AM, Chairperson, Board of Directors, Don Dunstan Foundation
"Homelessness and rough sleeping are not the failure of an individual, rather they are the result of complex system breakdowns." Dr Nonie Brennan. Read Nonie's Thinker in Residence Report here.
Presented by the Don Dunstan Foundation. Thanks to major partner of Homelessness Week, Capital City Committee.
Thank you to Foundation's major partners University of Adelaide and Flinders University.