OPINION: Adventures in Truss-land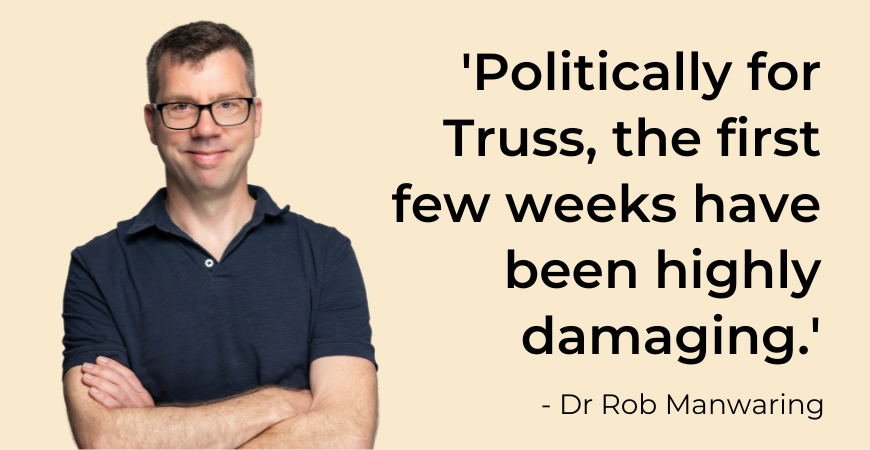 Dr Rob Manwaring, Flinders University |
Not too long ago, Australia became something of a global joke in terms of the churn of its political leaders.
Since the demise of John Howard in 2007, Australia managed to have 6 Prime Ministers (PM) in just over a decade. Remarkably, Scott Morrison was the first PM to serve out a full term in office since Howard.
This mantle has now seemingly passed to the United Kingdom, with the advent of Liz Truss as the new British Prime Minister.
Since 2010, Britain has now had five PMs, and Liz Truss is the fourth Conservative leader following the turmoil unleashed by David Cameron's decision to hold a referendum on leaving on the European Union.
Leadership instability is a sign of an unhealthy of democracy.
To say that Liz Truss's first few weeks as PM have been tumultuous is also something of an understatement.
After a long campaign for the leadership, Truss won just 57.4% of the vote of over the 140,000 conservative party members. This remains one of the lowest mandates ever achieved for a Conservative leader.
More significantly however, is the disjunct between the conservative membership base and the wider British public.
Conservative members are more likely to be older, affluent, live in the south, and were also more likely to have supported Brexit. This creates a representation gap, where the promises a new leader has to make to its base to win the leadership are significantly out of step with the expectations and needs of wider public.
For example, the costs and benefits of Brexit are unequally felt, and most conservative party members will have no direct consequence for the fallout the unresolved dispute over the Northern Ireland protocol which governs trade between Europe and Northern Ireland.
What then was Truss's mandate to lead the party?
Truss herself is something of a political shape-shifter. As is becoming well-known, Truss was a former member of the centrist Liberal Democrats, the historically smaller third party in UK politics.
Truss was known for a range of socially progressive views, including abolishing the monarchy as a student. Truss then later joined the moderate socially liberal or 'wet' flank of the conservative party, and perhaps more pertinently than the seeming radicalism of her youth, was her strong support for the 'Remain' campaign.
Yet, Truss won the backing of her party largely due to her shift and pursuit of a narrow economic agenda which made a strong appeal to significant tax cuts to the more well-off, and a shrinking of the state.
This was a brand of a very narrow neoliberalism, which panders to a specific wing of the party. As critics have decried, Truss campaigned in 'Thatcher cosplay'.
On assuming the leadership, Truss quickly appointed her cabinet. It is striking too in how the UK leads Australia on forms of descriptive representation, which now has had its third female PM, and currently all four members of the inner core of cabinet (PM, Chancellor, Foreign Secretary and Home Secretary) are non-White males.
Yet, what unites them is a strong commitment to this crude variant of laissez-faire economics. Truss's Chancellor Kwasi Kwarteng is seemingly an even stronger proponent of this agenda than Truss.
While Truss was a Johnson loyalist, she was keen to differentiate herself not only from the toxicity of his government, but also his economic and political agenda.
Shortly after taking the leadership, Truss's conservatives introduced a mini-budget, with its eye-watering proposals, including significant tax cuts (abolishing the 45% top rate of income tax), fuelled by further government borrowing.
The backlash from the markets was swift and brutal, with the Bank of England forced to intervene, and the IMF issuing a stern warning to avoid debt-funded tax cuts.
At the moment, it is political party conference season in the UK, and on the eve of the Conservative party conference, Truss was forced into a humiliating U-turn on her income tax proposal, noting the 'turbulence' of her government's budgetary measures.
Politically for Truss, the first few weeks have been highly damaging. She has failed to enjoy the usual customary 'bounce' in the polls, and indeed, her net approval rating as PM has gone into free-fall from -9 to a catastrophic -37. To put this into context, this is a worse net approval rating than Johnson's -28 in his final week in office.
Truss appears to have wasted valuable political capital on a naïve and quixotic economic agenda in country which has over 2,500 food banks, and at the height of COVID-19 had over 11% of respondents using them.
Taking a wider view, Truss's ill-fortunes are emblematic of a wider crisis on the centre-right.
In 2021, Bale and Kaltwasser published a landmark book on the crisis of the centre-right, taking in the political decline of many mainstream centre-right parties, such as the German CDU.
In part, this crisis is driven by a declining vote share of the major parties in many advanced industrial countries (including Australia).
What seems to be behind this crisis is a shift in cultural values in many countries; and how conservative politics has been unable to reconcile its different political traditions.
Most acutely is the gap between the right's socially conservative tradition with those pursuing for a classical liberal form of economics.
In Trussland, the crisis seems starker than elsewhere, and at this rate of change, the Conservatives may yet again be looking for a new party leader.
Dr Manwaring is Associate Professor, College of Business, Government and Law at Flinders University.