State Election Forum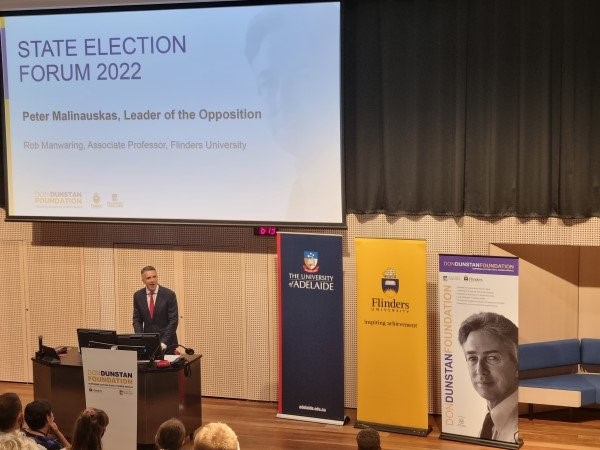 24 January 2022
5.30pm to 7pm
University of Adelaide, Adelaide Health and Medical Sciences Building
In January 2022, then Leader of the Opposition Peter Malinauskas addressed Don Dunstan Foundation supporters at a State Election Forum.
Associate Professor Rob Manwaring from Flinders University provided an opening address, discussing the current state of democracy in South Australia.
This was based on the initial findings of a recent global research project in which Flinders University is collaborating.
Peter Malinauskas spoke about his long-term commitment to every voter having the right to an equal voice in our democracy.
He announced an election policy to ban donations to political parties for future elections, in the interests of public confidence in our democracy.
The forum ended with an engaging question and answer session.
Foundation chair Hon Dr Jane Lomax-Smith urged people to speak with their friends and neighbours about the role of government in providing an environment in which the community could have confidence.