Dunstan Dialogue 2017 Professor Alexander Betts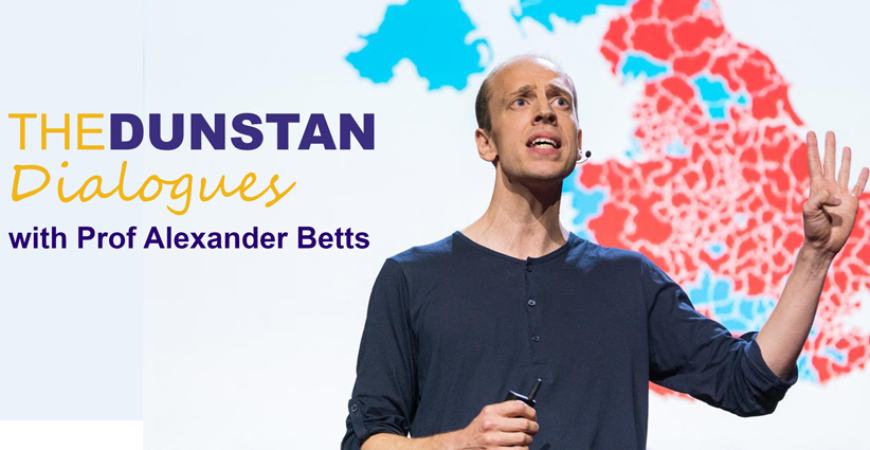 Migration and Humanitarianism
As part of his visit to Adelaide, Prof Betts participated in a Dunstan Dialogue, sharing his insights and expertise on the lessons we can learn from Europe on migration and the refugee crisis.
Alexander Betts and his work have garnered international attention. Recently named a Young Global Leader by the World Economic Forum, he is an engaging and powerful speaker. His TED talk, titled "Our Refugee System is Failing," received rave reviews – for provocative content and performance. His new book, "Refuge: Transforming a Broken Refugee System," (Penguin, April 2017) further explores ways to improve outcomes for refugees and host countries. Betts was also named to the Thinkers50 2017 Radar list of scholars most likely to shape the future.
Oxford's youngest British professor since World War II, his research is focused on the politics and economics of refugees. He also founded the Humanitarian Innovation Project (HIP) with an initial aim of exploring the role of technology, innovation and the private sector in refugee assistance. The project has undertaken pioneering work on Refugee Economies, developing cutting-edge thinking on how the conceptualize a people-centered approach to humanitarian innovation. The project also led to the creation of the annual Humanitarian Innovation Conference. In addition to many academic publications, Betts has written for Foreign Affairs, the New York Times, and the Guardian, and appeared regularly on the BBC, Al Jazeera and CNN. He has worked for UNHCR and has served as consultant to a range of international organisations, including OCHA, UNICEF, UNDP, and the World Bank.