How to sing, dance, paint and play our way out of COVID-19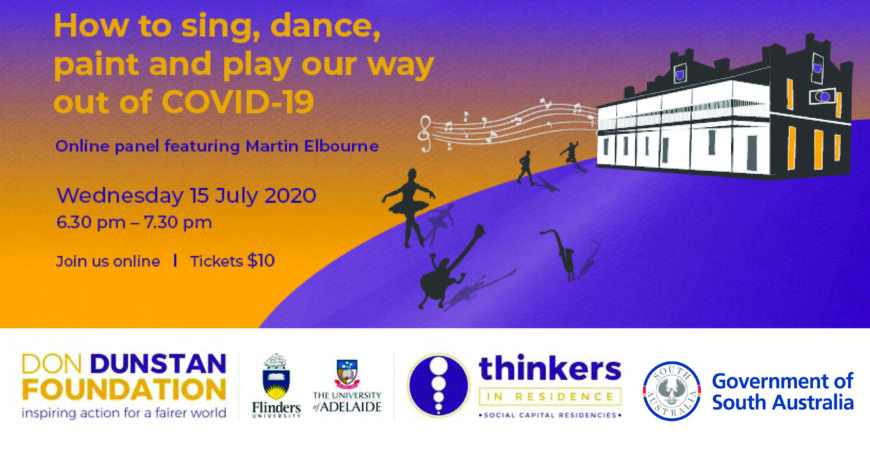 15 July 2020
6.30 pm - 7.30 pm
What's next for the arts to survive and thrive?
COVID-19 has kept us indoors and has had a devastating effect on the music and arts industries. This event featured WOMAD co-founder, legendary Glastonbury booker and the Foundation's very first Thinker in Residence (2013), Martin Elbourne and discussed the social, cultural, political, industrial and economic impacts of the pandemic on our live music and arts industry.
Martin was joined by leading South Australian arts experts, as they brought their local expertise to the virtual stage. We answered the question 'How can we work with communities to build new environments in which arts can thrive and be sustained?'
Facilitated by Heather Croall, CEO and Artistic Director, Adelaide Fringe
Speakers:
Martin Elbourne, Former Don Dunstan Foundation Thinker in Residence (2013)
Beck Pearce, Director, Office of Adelaide UNESCO City of Music
Rachel Healy, Artistic Director, Adelaide Festival
Rhana Devenport, Director, Art Gallery of South Australia
Biographies available here.
Presented by the Don Dunstan Foundation. Thanks to our event sponsors, Arts SA and the Music Development Office. Thank you to our Foundation major partners University of Adelaide and Flinders University.