Nobel Peace Prize Winner Muhammad Yunus Visits Adelaide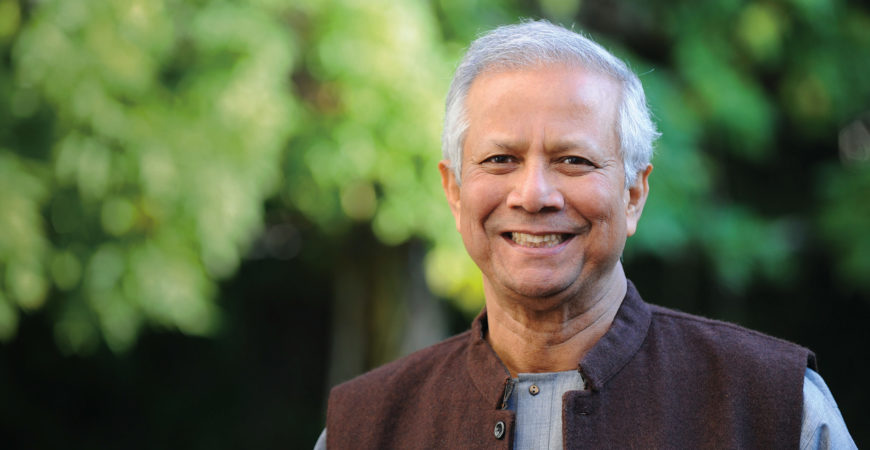 22 March 2018
6.30pm
Flinders University, Bedford Park SA
Renowned Nobel Peace Prize winning economist and entrepreneur, Professor Muhammad Yunus, is at the forefront of a world movement towards eradicating poverty, unemployment and carbon emissions.
Professor Yunus was in Adelaide in March 2018 urging South Australians including business and political leaders, not-for-profits and entrepreneurs, to embrace his mission to achieve zero poverty, zero unemployment and zero carbon emissions.
"It's time to admit that the capitalist engine is broken," Professor Yunus says.
"In its current form, it will inevitably lead to inequality, unemployment and environmental destruction," he says.
Professor Yunus articulates the push for a new form of capitalism in his latest book – A World of Three Zeroes: The New Economics of Zero Poverty, Zero Unemployment, and Zero Net Carbon Emissions.
"I'm calling on a greater commitment to innovation which is focussed on reducing poverty, improving healthcare, education and reducing pollution to protect the environment," Professor Yunus says.
Pioneering the concepts of microcredit and microfinance, Professor Yunus founded the grassroots Grameen Bank in Bangladesh.
"By establishing Grameen Bank, we've helped millions of Bangladeshis out of rural poverty by lending them small amounts of money, or microfinance, to set up their own businesses," Professor Yunus says.
"The model we are working with is to help people who are too poor to qualify for a traditional bank loan and give them the finances to start their own business," he says.
"Most of the beneficiaries are women and the loans system is based solely on trust. It's workable, as 98 per cent of loans are repaid."
Grameen began rolling out micro-finance branches in the United States a decade ago, and last year provided $600 million worth of loans. To date, $27 billion has been leant to nine million women who are living in some of the world's poorest communities.
In Australia, Grameen Bank is looking to open its first micro-finance branch at Grafton in New South Wales.
The Don Dunstan Foundation's Executive Director David Pearson says Professor Yunus has created a legacy of real social change in not only Bangladesh but now in many western countries.
"Capitalism is undergoing a revolution and more and more social enterprises are now being created with a commitment to the "Three Zeroes" concept," Mr Pearson says.
"The social-business model offers a challenge to South Australians to do more and tap into the creativity of young people, utilise latest technology and establish new social enterprises here."
STEMSEL Foundation in collaboration with the Yunus Centre in Bangladesh, have developed a global movement of Dr Yunus Young Ambassadors (DYYA), to implement the principles of the Three Zeroes, across the social sector, business world, academia and government.
Professor Yunus was awarded the Nobel Peace Prize in 2006 for founding the Grameen Bank and pioneering the concepts of microcredit and microfinance. He's also the bestselling author of "Banker to the Poor."