Social Capital: A conversation with Allyson Hewitt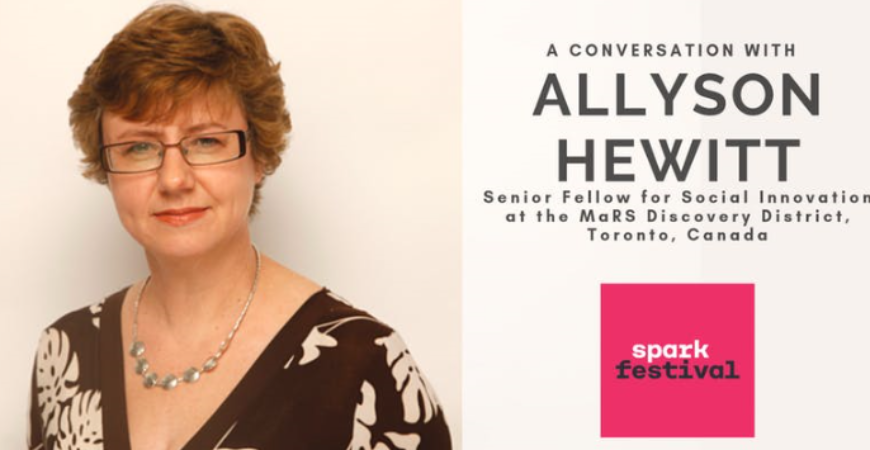 17 June 2019
5.30 pm - 7.30 pm
Sydney Startup Hub, Level 1 / 11 York Street, Sydney, NSW 2000
Don Dunstan Foundation is delighted to collaborate with the Spark Festival to present Social Capital: A conversation with Allyson Hewitt, Senior Fellow for social innovation at the highly successful MaRS Discovery District in Toronto, Canada.
We know that social innovation is not new. Society has been improved with ideas for hundreds of years. What is different these days are the ideas being developed and how we are working together to put these ideas into action, to deliver the change we need.
Today, Canada is making its mark in the world of social innovation and has introduced many first-of-their-kind ideas and Allyson has been at the forefront of these changes.
Allyson has developed and helps lead the social innovation programs at the MaRS Discovery District, including:
the national initiative; Social Innovation Generation (SiG)
the social finance programs of the Centre for Impact Investing,
the MaRS Solutions Lab (a lab designed to tackle complex challenges), and
Studio Y, an initiative designed to support youth in thriving in the new economy
Allyson has also been instrumental in:
growing the social innovation ecosystem
conducting public education; and
influencing public policy
Allyson is also is currently leading an initiative to develop a pro bono marketplace for Canada.