Young lawyer on her way thanks to scholarship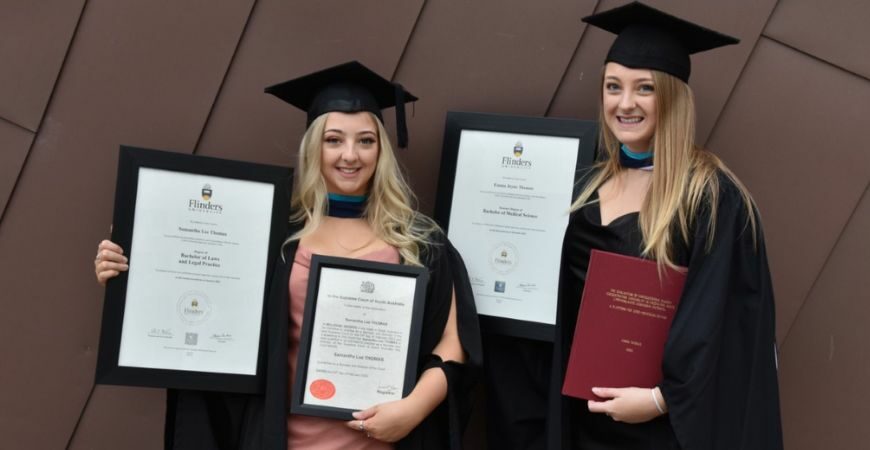 PICTURED: Samantha Thomas with sister Emma at their graduation.
A desire to help people led Samantha Thomas to a career in law – and a Len King Scholarship helped her to fulfil her dream.
With sister Emma, Samantha became the first person in her family to go to university and after graduating in May she's now in full-time employment.
'In my third year at uni, I came across the scholarship. I never imagined myself applying because I didn't know if I'd fit the criteria,' she said.
'When it came time to do my placement, I realised I might need some help and my sister encouraged me to apply.'
With a strong interest in social justice and volunteering experience, Samantha was one of four successful scholarship recipients in 2021.
Studying legal studies at Para Hills High School gave Samantha her first taste of the law and she soon saw it as a way to help others.
'I really want to help people,' she said. 'That's one of the core values I hold and I always have.
'I've always found the law interesting and when I got to study legal studies at high school I thought 'this is what I want to do'. This is how I'm going to help people.'
Samantha studied a Bachelor of Laws and Legal Practice at Flinders University and now works for the Federal Circuit and Family Court of Australia.
As a Legal Associate to the Hon Justice Christine Mead, Samantha runs the courtroom for trials, undertakes legal research and prepares summaries and judgements.
Samantha is passionate about helping other young people to see the value of going to university and takes any opportunity to spread that message.
As for the future, Samantha sees a path forward in family law, her area of interest, but she's not prescriptive on what that path looks like.
'I'm hoping it will come to me as I follow the path. I'll keep taking any opportunities that come my way and see if that's what I want to do.'