Our Mob Emerging Artist Award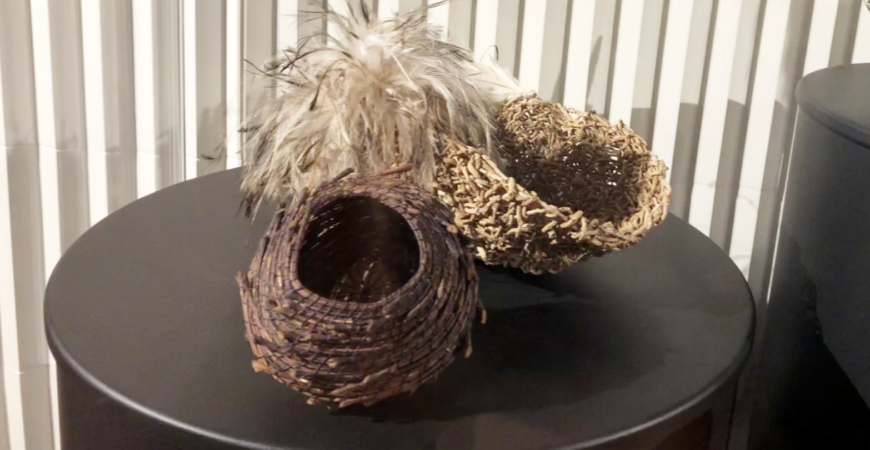 Lakun Mara 13 – Pinyali Pempandawi (Emu Basket) Lakun Mara 14 – Partar Pempandawi (Rock Basket)
The Foundation recognises our many talented South Australian Aboriginal artists and the power of their stories. The Emerging Artist prize provides a launch pad for up-and-coming SA Aboriginal Artists to develop an arts career and for their artworks and stories to gain exposure to a national audience.
The Award aims to recognise perseverance by Aboriginal artists and to promote pride and understanding for Aboriginal culture in our communities.
The $5000 Emerging Artist Prize paired with a professional development opportunity through Country Arts SA will be judged from outstanding work submitted to the Our Mob exhibition. The Prize is awarded to the emerging artist on merit of work submitted and considered by judges to exhibit a desire for furthering their artistic career.
2021 - Jay Milera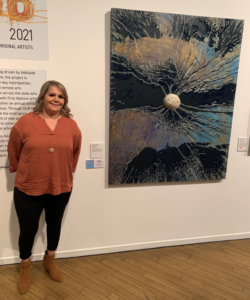 Kaurna, Narungga artist Jay Milera was announced the winner of the $5,000 Don Dunstan Foundation OUR MOB Emerging Artist Prize during the 2021 OUR MOB awards ceremony at Adelaide Festival Centre.
Milera impressed the judges with her artwork, titled Land Meets Sea, an acrylic on canvas painting with a captivating shell in the centre. The prize win will allow the talented artist to continue her workshops that mentor young adults with her traditional Aboriginal art in a variety of artistic styles.
The painting was inspired by Milera's Narungga heritage, culture and community.
"It represents a coming together of land, sea and sky. Narungga are water people. We are connected to the sea, the land and the sky through various Dreaming stories such as the Seven Sisters, Gynburra (Butterfish) and Bruthera's Rock Dreaming stories. This painting represents an intersection of these Dreaming stories and my Narungga cultural connections."

Jay Milera
2019 | Sonya Rankine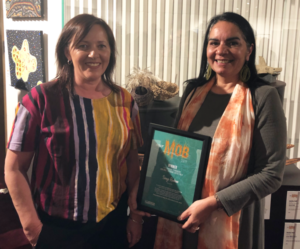 Ngarrindjeri, Nurungga, Ngadjuri woman Sonya Rankine was announced the winner of the $5,000 Don Dunstan Foundation Our Mob Emerging Artist Prize during the 2019 OUR MOB opening at Adelaide Festival Centre this evening.
The prize win will allow the 49 year old Moonta Bay resident to invest in her business, Lakun Mara (meaning Weaving Hand), which focuses on the revival and maintenance of traditional Ngarrindjeri weaving techniques and cultural practice.
Sonya impressed the judges with her sculptures, titled 'Lakun Mara 13 – Pinyali Pempandawi (Emu Basket)' and 'Lakun Mara 14 – Partar Pempandawi (Rock Basket)' made from jacaranda stalks, beach stone, waxed linen thread, palm inflorescence, and emu feathers.
Read more about Sonya's art, Weaving Her Way to Success.
"I've been weaving for 25 years. I first learnt from Aunty Ellen Trevorrow, the traditional Ngarrindjeri technique using reeds from the Coorong. Since then I have continued to have a strong cultural interest and passion for weaving. This was strengthened by attending the 2019 National Basketry Gathering delivering a workshop and learning many more styles to incorporate.

"My weaving is about reviving and maintaining culture and the tradition of Ngarrindjeri weaving through creating contemporary Aboriginal art."

Sonya Rankine
2018 | Tony Wilson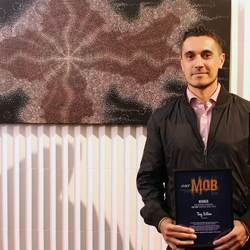 Tony's winning work titled Uncle is an acknowledgement to community leaders past, present and future. It also suggests the importance of present choices and how they impact people and environment now and in the future.
Tony says that winning this award will allow him space and time to focus on the development a solo exhibition as part of the 2019 Fringe Festival, and to help him to establish himself in the visual arts realm in SA.
In addition to his work as an artist he has been working in schools with young people for many years and more recently as artist in residence at Alberton Primary School mentoring young artists and helping them to find connection to culture and express this through art.
2017 | Patrick Ikaringanyi Ferguson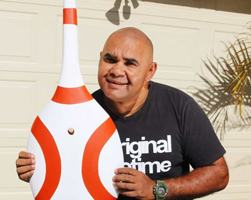 Patrick Ikaringanyi Ferguson, 41 of Adelaide, is the winner of the 2017 Our Mob Don Dunstan Foundation Emerging Artist Prize. The prize win will allow Patrick, who spends time travelling around the countryside volunteering and teaching Cultural Awareness, to spend more time in each place teaching the art of wood carving.
Patrick enjoys getting back to the land and fossicking for the right wood to make his pieces. He says, "I am proud of my culture and my connection to Punu (wood), this is my love and spiritual obligation to my people." He first learnt to make boomerangs and other carvings from his grandmother, growing up in Tibooburra in New South Wales. It was a skill he further fine-tuned in his transition through initiation to become a Wati man.
Patrick entered a collection of wood carvings for the award, including two shields, a basket and a hunting boomerang.
2016 | Josephine Lennon
Josephine Lennon from the Matutjara and Mirning groups, Ceduna, was the 2016 winner of the Our Mob Don Dunstan Foundation Emerging Artist Award.
Her beautifully intricate acrylic on canvas entries – Waterhole, wind & drifting sands and Sturt Peas on Stuart Highway captured the judges' attention.
Josephine was born in Pt Augusta in 1972 and says she inherited her artistic skills from her family, especially her mother and father. Her sister was also an exceptional painter and inspiring role model. Josephine used to watch them paint and soon picked up the art herself.
The $5,000 prize from the Don Dunstan Foundation will help support Josephine in her quest to develop her skills with arts development opportunities and to focus on developing a body of work for a solo or group exhibition regionally or nationally.
2015 | Josina Nyarpingka Pumani
The 2015 winner of the Our Mob Don Dunstan Foundation Emerging Artist Award was Josina Nyarpingka Pumani, Pitjantjatjara Artist from Mimili.
Josina has explored different media techniques – combining her painting practice with photography to produce compelling digital prints. Her winning entry is entitled Ngayuku Ngura (Victory Well) (edition of 5).
Since winning the award Josina has been further experimenting with new materials and has produced a new series of works which were displayed at the Don Dunstan Showcase exhibition as part of the 2016 Our Mob program.
Josina lives with her family in the Mimili community in the Anangu Pitjantjatjara Yankunytjatjara Lands in the far north-west of South Australia. She hopes to learn much more about photography as a new way of telling their stories – and teach the art form to the younger members of her community.
2014 | Anna Dowling
Anna Dowling was presented with a cheque for $5000 from the Don Dunstan Foundation to contribute to her emerging arts practice. Her stunning ink on paper work Passionfruit in the Our Mob exhibition, is an exploration of childhood memories of exploring and immersing herself in the natural world. It expresses the movement and life found in plants and natural forms and uses patterns based on petals, leaves, passionfruit seeds and flowers.
Since completing year 12 studies, Anna has pursued her passion for visual art and is currently undertaking a Bachelor in Visual Art and Design while also working as an Aboriginal health research assistant. Art is in Anna's blood – her cousin is world-renowned visual artist Julie Dowling, who won the Telstra National Aboriginal & Torres Strait Islander Art Award in 2000, and her grandmother is a painter and once owned a gallery in Burra.
After winning the Don Dunstan Emerging Artist Prize, I have felt so supported and sincerely encouraged to continue creating art and developing as an artist. Feeling a sense of encouragement from the South Australian arts community, my peers and family is significant for me in many ways. Since I could hold a crayon, I have been drawing and it is something I don't ever want to stop doing. At 21 years of age, I believe that I am beginning on a journey to become an artist who shines light on the beauty, diversity and incredible value of Aboriginal culture. Anna said of winning the award.
Our Mob: from Munch to Maralinga
Source: InDaily Adelaide Independent News
2013 | Amanda Radomi
I did not intend to submit work to Our Mob last year, my plan was to wait a year, work on my art practice and then submit something 'special'. However, due to the encouragement of several people I bit the bullet and entered at the very last minute. I was so happy and excited to hear that my painting She's got roots was selected for the exhibition, and then I was ecstatic to hear that the painting had been short listed for the prize, but I did not at any point feel that I would be announced the winner!
When this happened it was such a shock! I am very grateful to Maggie Fletcher at the Festival Theatre, Country ArtsSA and the Don Dunstan Foundation for this amazing prize. First of all, winning the prize helped me to gain self-confidence and to put my artwork in to perspective. Secondly, it set in motion a series of events that have made for a very exciting year and placed some people in my life who have provided very generous support and mentorship.
Amanda Radomi: Painting the pain of disconnection in brightly coloured Indigenous art
Source: 891 ABC Adelaide