Weaving Her Way To Success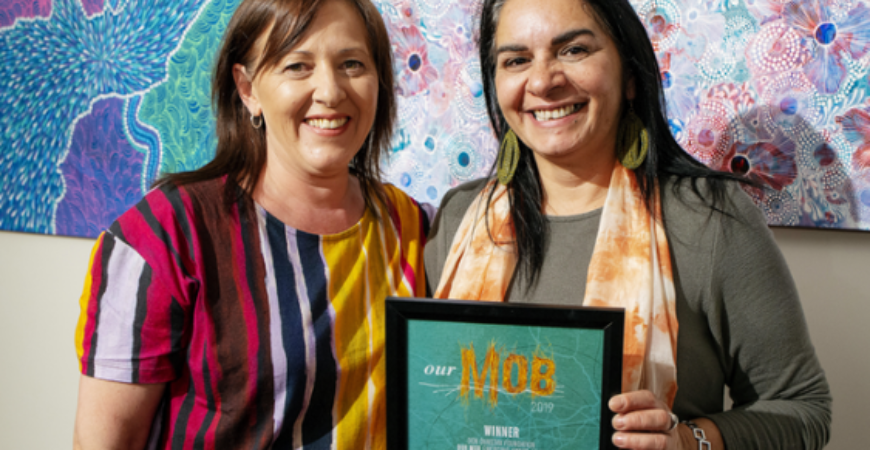 This year's Don Dunstan Foundation Our Mob Emerging Artist Prize was awarded to Ngarrindjeri, Nurungga, Ngadjuri artist Sonya Rankine, at the opening of the Our Mob exhibition, for her exceptional weaving baskets artwork.
On Thursday 22 August, the 49-year-old Moonta Bay resident was announced as the $5,000 recipient for her remarkable artwork, which has given her the financial support necessary to help boost her business, Lakun Mara – translating to Weaving Hand.
Rankine described winning the Don Dunstan Foundation Our Mob Emerging Artist Prize as an "opportunity to make a career" as she has seen from the previous recipients that are a source of motivation and inspiration to her.
Whether she uses it to renovate her shed into a workspace exclusively for her artwork or to buy a trailer to help her collect her weaving materials, Rankine said the prize money will be invested into her business.
Rankine's business is centred on reviving and recognising the traditional Ngarrindjeri weaving techniques and cultural practice.
Similar to her artwork, Rankine believes the Our Mob exhibition is the combination of professional practice with cultural connection.
"Recognition, support and opening doors to new spaces… that is what comes from the Our Mob exhibition, in particular the Don Dunstan Foundation award," Rankine said.
The award-winning baskets expanded on her traditional Ngarrindjeri weaving methods and incorporated new techniques she learnt from her time at the 2019 National Basketry Gathering.
Jacaranda stalks, beach stone from Stansbury, waxed linen thread, palm inflorescence, and emu feathers were weaved together to create the two pieces, 'Lakun Mara 13 – Pinyali Pempandawi (Emu Basket)' and 'Lakun Mara 14 – Partar Pempandawi (Rock Basket)'.
"They were created using materials that would usually be thrown away," Rankine said.
Since she was 10-months-old, Rankine was raised in the foster care system. However, she was taught weaving by her Aunty Ellen Trevorrow, a renowned Ngarrindjeri weaver and Elder.
Rankine has been mastering the art of weaving for 25 years as a way of "acknowledging being aboriginal," she said.
"Weaving is in my blood, there is a hereditary connection," she said.
The Don Dunstan Foundation is passionate about giving recognition and support to South Australia's Aboriginal artists to help develop their careers in the arts. Through programs such as the Our Mob exhibition and award, we offer these talented artists a platform for their work to be exposed to a wider audience.
Contributed by Lisa Cooper.