Temaana already a high achiever at just 18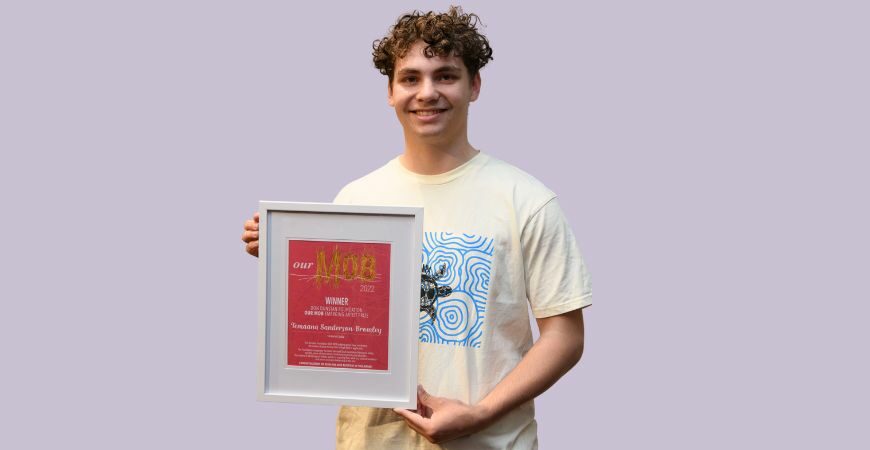 He's just 18 but that hasn't stopped Temaana Sanderson-Bromley from achieving in art, sport and business.
The Seaton High School year 12 student is this year's winner of the Don Dunstan Foundation OUR MOB Emerging Artist Prize – the youngest ever winner.
Temaana mixes his final year of school, where he's in the Aboriginal Basketball Academy, with running his own business and producing art using a range of mediums.
That led to multiple entries in the OUR MOB Emerging Artist Prize alongside his sister Iteka who he initially thought had won.
'I was standing with my family towards the back of the room listening and when I first heard the name, I thought it was my sister,' Temaana said.
'Eventually I got my head around it. It was pretty unreal.'
Temaana credits Iteka with introducing him to art when he was in year 8. Iteka was preparing her folio and had access to studio which allowed Temaana to experiment.
'I started with silk paintings and dyes and have expanded from there. I just give every medium a go and continue with the ones I like,' Temaana said.
He draws inspiration from his childhood years spent visiting the Flinders Ranges, Yorke Peninsula and the Simpson Desert.
The Flinders Ranges is also the inspiration behind his post-school plans to study marine and wildlife conservation at The University of Adelaide next year.
Temaana said growing up on Country in the Flinders, being around nature and seeing the reintroduction of species spurred his passion for conservation.
Running his own clothing business Mardlaapa Designs where he creates designs featuring his art is his other passion – something he'd eventually like to do full-time.
His $5000 prize will go towards developing his business. He's also involved with his family's art collective Malka Wiri Wiri.
To support Temaana and his work follow Mardlaapa Designs on Instagram or Facebook.