Storylines shaped in pottery by OUR MOB winner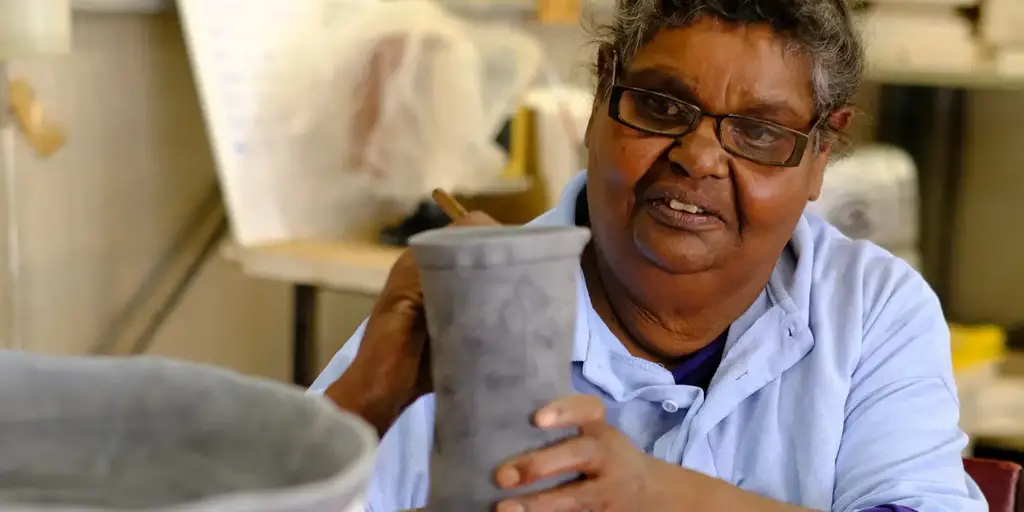 Lesley Coulthard pictured at work in her studio. Picture credit: Ku Arts
Adyamathanhna woman Lesley Coulthard's beautiful and delicate pottery pieces, Ranges Jug and Akurru (Serpent) Track Bowl, are inspired by her Country in the Flinders Ranges and have seen her awarded the 2023 OUR MOB Don Dunstan Foundation Emerging Artist prize. Lesley's art involves hand-shaping clay into vessels, and experimenting with foraged oxides including ochre to create unique colours and effects on the fired jugs and bowls.
Lesley says that one of the great pleasures of incorporating oxides in the clay work is the element of surprise. "We started off mixing the ochre in with the clay to see what would happen. That didn't work like we wanted it to, so we changed the process to paint the clay with the ochre once we've made it into the shape we want. It looks horrible to start with – it looks like mud!
"We let it sit for a couple of weeks, then put it in the kiln to fire it. So, it is always a surprise to see how it will turn out and what effect the ochre will have. It's awesome when it comes out of the kiln.
We like to experiment. Sometimes we bisque fire the piece then glaze it, or sometimes we leave it natural."
Lesley is developing her practice alongside members of her family and other people in the Flinders Ranges community at their shared studio space in Copley. Mum Linda is the oldest member of the art group, and Lesley's sisters Donna and Veronica are also accomplished artists and potters. The group includes Aboriginal and non-Aboriginal community members who work together to share resources and develop skills.
"There are usually about seven of us who work together. We come in to the studio from the end of March, when the weather is getting cooler, then work through till September each year. Sometimes we have visitors from other places, like artists or people from galleries, who work with us and share their ideas and skills. We also have tourists come through and sometimes they have skills to share with us, too."
The collaborative nature of the studio and its artists' endeavours is apparent. The artists support each other to prepare for exhibitions. When they sell pieces they make a contribution back towards the running of the studio. The Jam Factory in Adelaide helps with providing clay. And the group is also working with Ku Arts to coordinate and apply for art competitions and exhibitions.
"We love our little pottery group and we love doing the art work. We love mucking around with clay and doing pottery together. It's such a good experience for the art group when we make sales or win prizes and get some pocket money. We are proud of each other and we like to go out for a little meal to celebrate."
Lesley has been practicing as an artist for about 15 years with skills in welding and painting as well as pottery. As the Emerging Artist prize recipient, Lesley plans to go to Adelaide to stock up on supplies and also treat herself to a little holiday to get more inspiration for her work.
The OUR MOB exhibition is on at the Adelaide Festival Centre's The Galleries exhibition space until 7 October 2023. You can find out more on the AFC's website.