Adelaide Festival Centre Celebrates 50 Years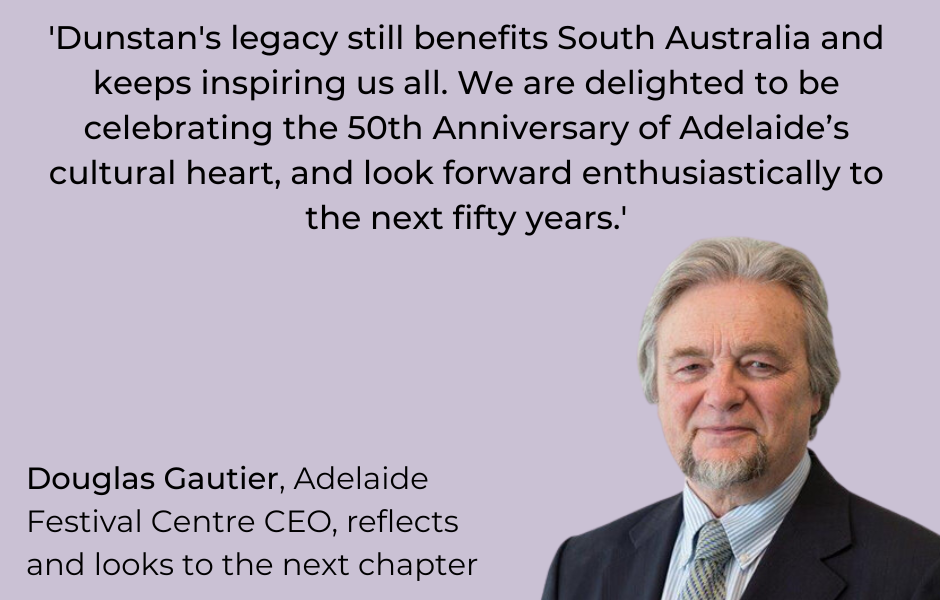 When it was first established in 1973, the Adelaide Festival Centre was Australia's first state capital city arts complex and organisation.  It was an exciting moment for the state, and the nation, as the Festival Centre was officially opened by Australian Prime Minister Gough Whitlam and Premier Don Dunstan.
The ambitions for this place were also matched with commitment for the function and not just the form: that is, for a successful mix of artists, programs, ideas and audiences that would fill the venues and bring the infrastructure to life.
On the 2nd of June 2023, we paid homage to the great vision of Don Dunstan through an on stage 50th Anniversary concert, complete with the all-singing Dunstanettes.  It was very well received and a fitting tribute to a great legacy.
Over the last 50 years, we've welcomed millions of South Australians and visitors into Adelaide Festival Centre's spaces and places.
The most successful arts centres in the world are not simply halls for hire but are those that have chosen to control their own destiny with a program and ideas-led approach that will engage and sustain artists and audiences. Although there is still much to do, these goals define much of the AFC's current activities and aspirations.
Our team and collaborators are strong instigators and advocates for creative ideas and initiatives. This manifests itself in comprehensive arts and education initiatives, life-long learning programs for greater audience participation and accessibility, professional training, and jobs creation.
In addition, we have collaborated with commercial producers to ensure the best range of program choice and balance for our audiences.
Dunstan's legacy still benefits South Australia and keeps inspiring us all.  We are delighted to be celebrating the 50th Anniversary of Adelaide's cultural heart and look forward enthusiastically to the next fifty years.