Dr Guy Turnbull's report is here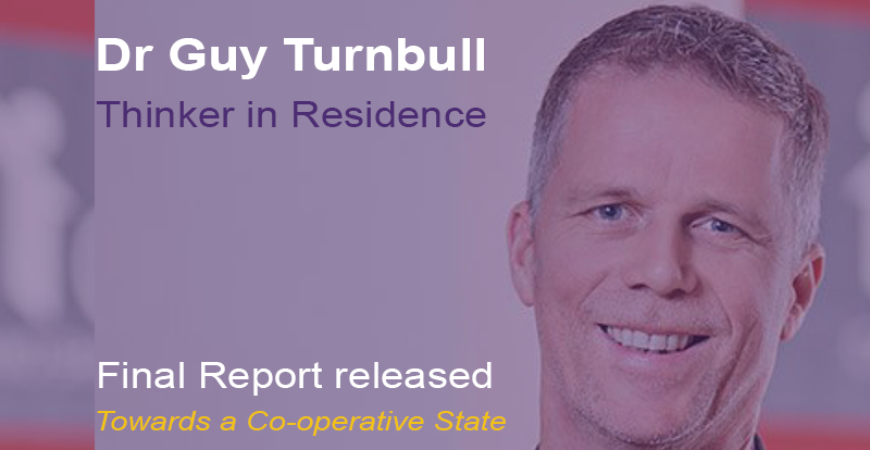 Former Adelaide Specialist Thinker in Residence and award-winning UK social entrepreneur Dr Guy Turnbull is encouraging South Australia to step up and grow its co-operative movement.
Dr Turnbull, recognised for successfully opening co-operatives (or social franchises) abroad, has outlined recommendations as part of his role for the Adelaide Thinkers in Residence program, focused on developing South Australia's Purpose Economy.
"Adopting new co-operative ways of owning and organising a range of economic activity including health and social care services, is the key to strengthening the local economy."

"There is no greater way to engage an employee and deliver superior outcomes than to make them an owner of the organisation they work for – this is why the employee ownership and co-operative business models are thriving."

Dr Guy Turnbull
When people have a stake in an organisation like a co-operative, they deliver a much better quality of care. This makes the business more successful and means that profits can be reinvested in staff development and better care.
The right support ecosystem needs to be in place for more co-operatives and mutuals to form in South Australia. This includes:
Establishing a central voice
Having strong connections to the global movement
Accessing appropriate social investment finance
The availability of bespoke business advice and support
A supportive legislative environment
Co-operative and social enterprise business models gain traction when they focus on particular sectors – health, aged care, disability as well as creative industries should be prioritised.
There are already great ideas being brought to the table including; bringing together carer co-operatives with primary and allied health professionals and having multi-stakeholder co-operatives of providers and people with disabilities, families and workers, who as member-owners, are engaged in how care is delivered.
These are examples of potential innovative models where South Australia can show national leadership on engagement and outcomes for transformational social care programs such as the National Disability Insurance Scheme (NDIS).
"I encourage South Australia to identify and nurture more Social Entrepreneurs as people are what matter most in business, including co-operatives and social enterprises."

Dr Guy Turnbull
Dr Turnbull's report: 'Towards a Co-operative State: Securing the Social and Economic Prosperity of South Australia through Corporate Diversity,' is available here.
The Business Council of Co-operatives and Mutuals, State Government, tertiary education, allied professional stakeholders and the private sector are currently working with Dr Turnbull, on contributing to the development of a blueprint for action in Australia's health and social care sector.