Global and National Connections
The Adelaide Zero Project is supported by and takes inspiration from a number of organisations outside Australia.
International experts such as Dame Louise Casey (Institute for Global Homelessness), Rosanne Haggerty and Jake Maguire (Community Solutions) have been instrumental in shaping the Adelaide Zero Project and moving it towards implementation.
Within Australia, the Australian Alliance to End Homelessness works with local communities to prevent and solve homelessness.
Institute for Global Homelessness

In November 2017, Adelaide officially became a Vanguard city, one of only a small number of cities worldwide working with the Institute of Global Homelessness (IGH) to end street homelessness by the end of 2020.
IGH is the first organization to focus on homelessness as a global phenomenon with an emphasis on those who are living on the street or in emergency shelters.
---
Explore the work of IGH.
Community Solutions

The Adelaide Zero Project is modelled on the highly successful Built for Zero campaign in the United States, pioneered by Community Solutions.
President of Community Solutions, Rosanne Haggerty, was a Thinker in Residence in 2006 and returned to address the Foundation Homelessness conference in 2016. Community Solutions Principal, Jake Maguire, was a Keynote Speaker at the 2017 Homelessness Conference.
---
Explore the work of Community Solutions.
---
In March 2018, Community Solutions released the key learnings from the first three years of the Built for Zero initiative.
Getting to Proof Points - Built for Zero Impact Report
Download
All Chicago


All Chicago's mission is to unite our community and resources to provide solutions that ensure and sustain the stability of home.
All Chicago's Dashboard is updated every week with the latest data on homelessness in Chicago.
---
Explore the work of All Chicago.
Australian Alliance to End Homelessness (AAEH)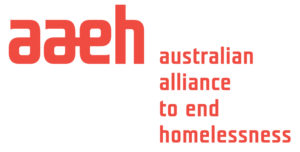 The Australian Alliance to End Homelessness (AAEH) is an independent champion for preventing and ending homelessness in Australia.
Despite the common misconception to the contrary, the scale of homelessness in Australia is both preventable and solvable.
AAEH supports Australian communities to individually and collectively end homelessness. Specifically, they work with local communities at all levels to ensure everyone has access to safe and sustainable housing services and that any incidents of homelessness that do occur are rare, brief and non-recurring.