Writers Week review – Angela Woollacott's biography on Don Dunstan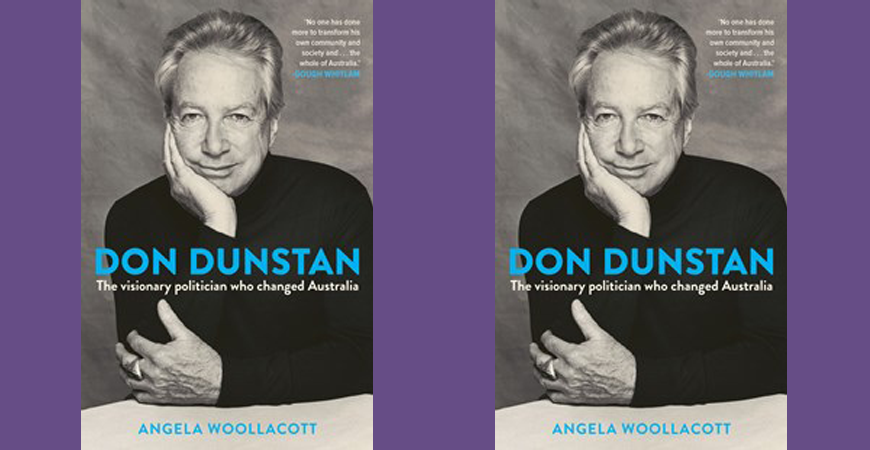 The Visionary Don Dunstan – Angela Woollacott Adelaide Writers' Week event
Written by Chris Button
Don Dunstan's lasting legacy as a strong leader, social reformer, and an eloquently intelligent politician commanded attention at a packed Adelaide Writers' Week discussing his recent biography written by historian Angela Woollacott, Don Dunstan: The visionary politician who changed Australia.
Featuring discussion between Woollacott and local barrister Anthony Durkin, the 5 March event commenced with Durkin remarking on comments made on Dunstan by former Prime Minister Gough Whitlam. Specifically, the fact Whitlam said 'No one has done more to transform his own community and society and… the whole of Australia.' Tongue firmly planted in cheek, Durkin suggested that for such a renowned figure to make these comments, Dunstan must have been significant!
Woollacott then took to the lectern and listed a snapshot of Dunstan's political achievements, including working towards Aboriginal land rights, equality, and Adelaide's dining culture. Additionally, Woollacott paid homage to Dunstan's very own Adelaide Festival performance in 1974, where he recited Ogden Nash poetry accompanied by Saint-Saens' Carnival of the Animals a stone's throw away at the Adelaide Zoo – to a sold-out audience, no less.
When Woollacott took time to quote reviews of her book to the audience, it was not to gloat, but to vividly illustrate the far-reaching impact Dunstan had on Australia. From The Saturday Paper's Linda Jaivin recognising how much the former Premier shaped 'the Australia I fell in love with', to Adelaide's own David Penberthy praising Dunstan's progressive revamp of South Australia's capital. Arguably pointed at the current political establishment, Woollacott quoted Christine Wallace, who posed and answered a poignant question in The Sydney Morning Herald: 'What do you do with a politician capable of achieving an 82 percent approval rating? Answer: Study them closely.'
In working on the biography since 2011, Woollacott believed Dunstan's importance to Australia was motivation enough to see it through and that researching him only enhanced her view of the man. As an Adelaide local, Woollacott said she came of age while Dunstan was Premier of South Australia, seeing firsthand the changes made during what is commonly referred to as the 'Dunstan Decade'.
Once the format switched to a conversation between Woollacott and Durkin, the discussion turned to how strong a campaigner Dunstan was. Particularly in 1968, how he overcame the gerrymander in place which favoured the Liberal and Country League (LCL) party, and how his national campaigning embarrassed then-Premier Steele Hall into beginning to redraw the electoral boundaries. Dunstan was heralded by both Durkin and Woollacott for working with tenacity and passion towards objectives others thought impossible.
Other points of discussion included Dunstan's love of the arts and willingness to invest political capital into it, which was unusual for the Australian Labor Party at the time. Additionally, his creativity in using the media advantageously was praised. Woollacott recalled Dunstan as an early adopter of opinion polls; not as a method of informing policy, but to help him identify where and how he could better explain his policies. Further, Dunstan's elocution lessons and background in theatre helped to punctuate his points in a way few others could.
Additionally, both speakers commented on Dunstan's ability to inspire bipartisanship, including a unique relationship with former LCL Premier Sir Thomas Playford, whom the former would regularly invite to discuss political matters in a pinch. Woollacott and Durkin took amusement in discussing a photo at Dunstan's 50th birthday party, where he and Playford were pictured next to Whitlam and Bob Hawke – a stark contrast of political allegiances. They also commented on Dunstan's focus on consensus leadership, different to the factional politics prevalent today.
Known for being a colourful character in many aspects of life, Dunstan is perhaps best known for the iconic photo of him wearing pink shorts and a tight, white t-shirt to Parliament House – against the wishes of his advisers. Woollacott suggested Dunstan was doing gym workouts at the time and was keen to show off his 'quite buff' figure.
Light-heartedly, albeit with an undeniable sense of frustration, Woollacott wished more people knew Dunstan for more than just pink shorts. This sentiment was shared by Anne Levy AO who was in attendance, believing more is required to educate younger generations on Dunstan's legacy.
While there will only ever be one Don Dunstan, Woollacott implored current leaders to lead with curiosity and imagination, and lamented the absence of these qualities in the years since Dunstan's time in politics. Further illustrating this, Woollacott pointed to Donald Horne's 1964 book The Lucky Country which famously stated that 'Australia is a lucky country, run mainly by second-rate people who share its luck.' Woollacott spoke about how Dunstan was a bold leader actively interested in public affairs- something she yearns for a return to in the current political arena.