Adelaide on target to be first city in Australia to end homelessness as volunteers connect with rough sleepers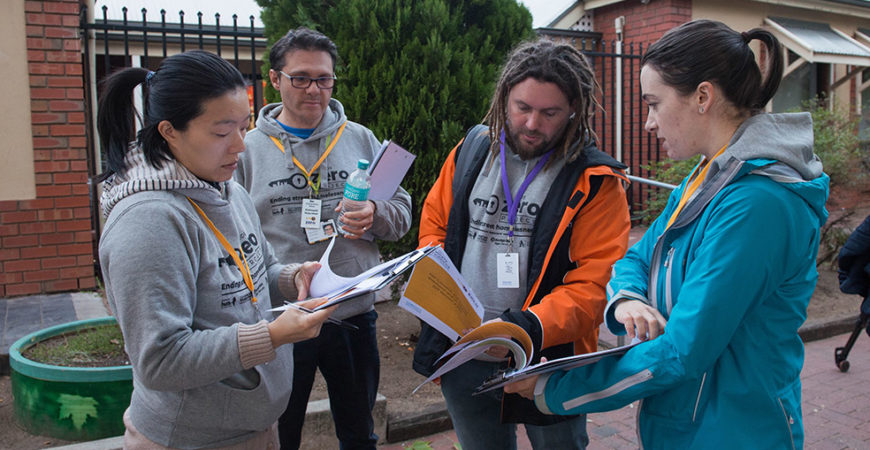 Adelaide is one step closer to achieving its goal of ending street homelessness, after more than 200 volunteers spent the past few nights getting to know the people sleeping rough in our city in an effort to better understand their needs.
Dubbed 'Connections Week', the initiative is a major milestone within the Adelaide Zero Project and its goal for Adelaide to be the first Australian city to achieve and sustain Functional Zero* street homelessness.
The Don Dunstan Foundation is the backbone organisation for the Adelaide Zero Project, which involves 35 partnering organisations including inner city homelessness services, Principal Partner, Bendigo Bank, state government, City of Adelaide, University of Adelaide and Flinders University.
The city's first Connections Week concludes today 17 May and marked the start of the implementation phase of the Adelaide Zero Project, led by the Don Dunstan Foundation.
Over the four-day initiative, more than 200 outreach workers and volunteers have connected with every person sleeping rough in the city to get to know them by name and better understand their needs.
Ahead of releasing the results, Adelaide Zero Project Co-Chair Revd Peter Sandeman said the value of Connections Week could not be understated.
"Aside from this data, our 200 volunteers have been out there starting a conversation about homelessness in Adelaide," Mr Sandeman said.
"The work we have undertaken this week and the data we have collected will prove vital to ending homelessness in the CBD by 2020," he said.
"This data will be used to create a By-Name list, a critical first step towards prioritising and coordinating housing and other supports for those in need."
"Ending functional homelessness in Adelaide's CBD is possible," Mr Sandeman said.  
"Instead of telling rough sleepers what they need, we are engaging with them and then working with not-for-profits, communities, the business sector and government to provide a sustainable solution."
It is a mission wholeheartedly supported by the City of Adelaide said The Right Honourable The Lord Mayor Martin Haese.
"Connections Week is a great example of inner city services and community volunteers working together to support people sleeping rough in the city," Mr Haese said.
"The City of Adelaide is proud to be a partner of the Adelaide Zero Project and contribute funding towards Connections Week.
"We now look forward to working with our partners towards ending rough sleeping in the City of Adelaide."
Bendigo Adelaide Bank Ltd is also proud to support the Don Dunstan Foundation and the vital mission of Adelaide Zero Project Connections Week said State Manager, SA/NT Paul Mertin.
"Every homeless person has a name and by learning their names, making sound connections and establishing firm and trusting relationships, we can help turn lives around and reach our 2020 vision," Mr Mertin said.
Interview opportunities at 10.30am today – outside the Aspire Office, 261 – 263 Halifax
Adelaide Zero Project Co-Chair Reverend Peter Sandeman
Hutt Street Centre Volunteer spokesperson Ian Cox
For enquiries, please contact Rebekah Quinn (0411 745 017) or Nicole Haack (0411 196 661) at The Message Bureau
*Functional Zero street homelessness is achieved when the number of people who are sleeping rough at any time is no greater than the average housing capacity.