20th Anniversary Campaign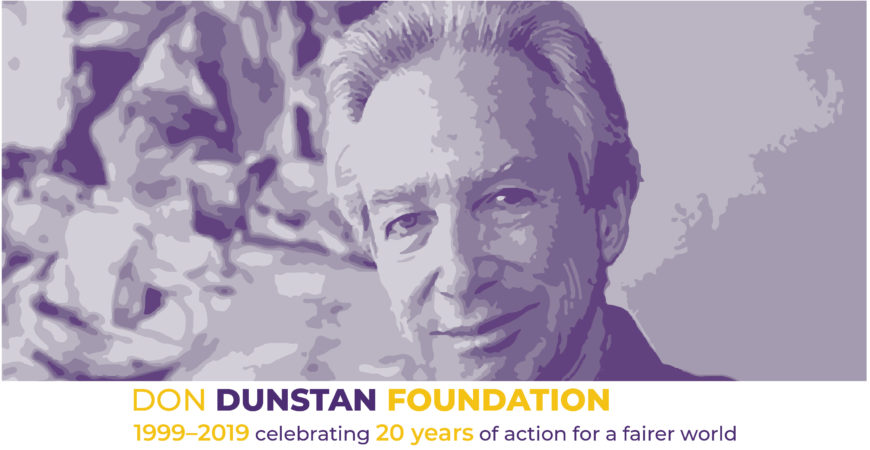 'I want my death to be useful. My fervent hope is that public support will allow The Don Dunstan Foundation to become a driving force in the making of a better and fairer society for us all.'

Don Dunstan, January 1999
Don Dunstan was one of Australia's most charismatic, courageous and visionary leaders. He was a true reformist who brought profound changes to South Australia.
Shortly before his death in 1999, Don and his family together decided to establish The Don Dunstan Foundation to continue research and other projects consistent with his life's work. The aim was to bring together policy makers, community groups and researchers to better meet the needs of all South Australians.
In 2019, we celebrated the 20th Anniversary of the Don Dunstan Foundation's establishment and commemorate 20 years since Don's passing.
Throughout the year, a program of events, projects and activities marked the Anniversary.
Events
On 6 February 2019, we celebrated the life that Don Dunstan lived, the lives that he has changed and his impact on society today. Held at the historic The Colonist pub on The Parade, the event was MC'd by the Hon. Rev. Dr Lynn Arnold AO and included a speech from the Hon. Jay Weatherill. Read more…
An unmissable live podcast on everything Don Dunstan! This special event brought together local podcasters AdeLOL and history professor Dr Paul Sendziuk for a fun, informative and engaging night to celebrate the life of Don. Read more…
Projects
In 2019 interviewees spoke about the history and achievements of the Don Dunstan Foundation and their involvement with the Foundation. These interviews have resulted in many engaging anecdotes about Don Dunstan. The Project has been made possible because of the support of the State Library of South Australia. The Foundation would particularly like to thank Alison Murchie for her expertise and enthusiasm. Find out more…